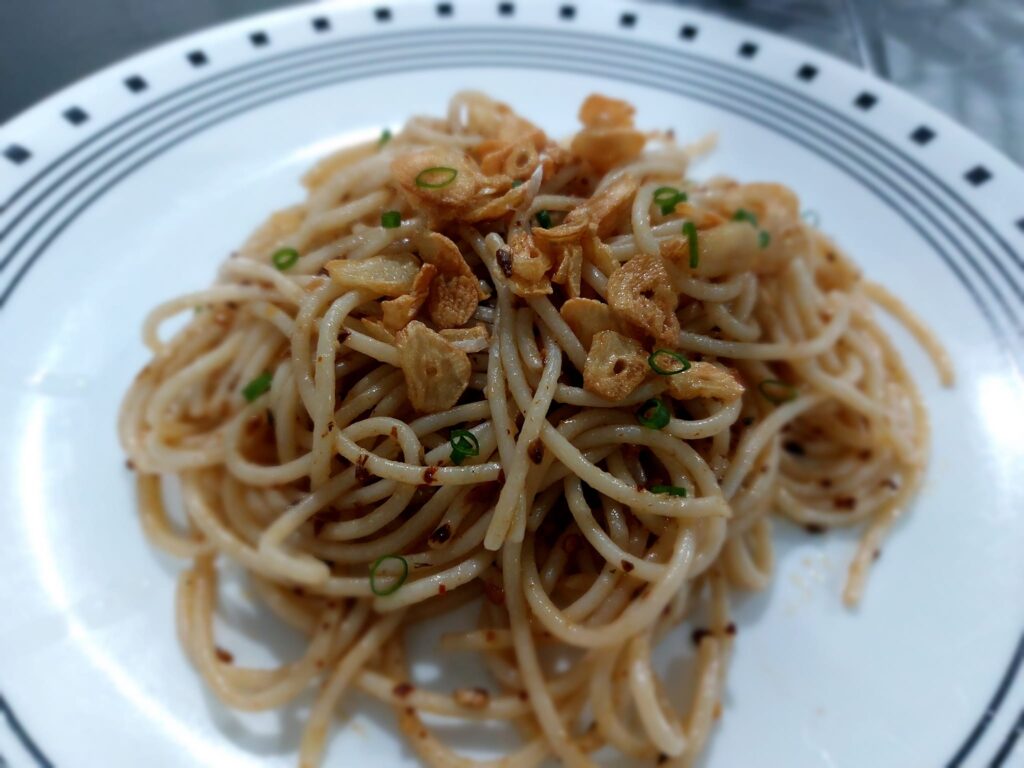 Spicy Garlic Butter Pasta is not your ordinary pasta! If you are someone who loves spicy, garlic-ky and buttery-flavor then this dish is for you! This recipe is so easy that you will be eating in no time. Cooking time for the Spicy Garlic Butter Pasta will only take 20-minutes and the ingredients are just mostly available in your pantry.
I tried this recipe because my husband is someone who loves spicy, garlic-ky and buttery-flavor. All of his favorite flavors in one dish so I thought he might love this. Aaand, I wasn't mistaken at all! Asked me to cook this recipe again for him.
Check out below how I made my own Spicy Garlic Butter Pasta.
Advertisement
Ingredients:
200g linguine or spaghetti
3 cups water, to boil the pasta
Salt
4 tbsp olive oil
1 tbsp unsalted butter
1 tsp chili flakes
2 tbsp soy sauce
2 tbsp oyster sauce
6 gloves garlic, thinly sliced
2 spring onion, finely chopped
3 tbsp grated Parmesan cheese
Advertisement
Instructions:
Boil water in a pot. Put a pinch of salt and oil to avoid the pasta from sticking to each other.
Add your pasta in the boiling water and cook until al dente.
When pasta is already cooked, reserve a cup of pasta cooking liquid for later use.
In a pan, add olive oil and cook the thinly sliced garlic until golden brown. Remove the cooked garlic from the pan and set aside.
On the same pan, add the butter, chili flakes, oyster sauce and soy sauce. Stir and cook for a bit.
Add the pasta to the pan and add about 2 tablespoons of the pasta liquid. Stir for 3-4 minutes or until water has been absorbed by the pasta.
Toss in the grated Parmesan cheese and spring onions.
Serve in a plate and add top it with the garlic your cooked earlier.
Enjoy!
So? What do you think? Easy, right? Let me know in the comments if you tried it!