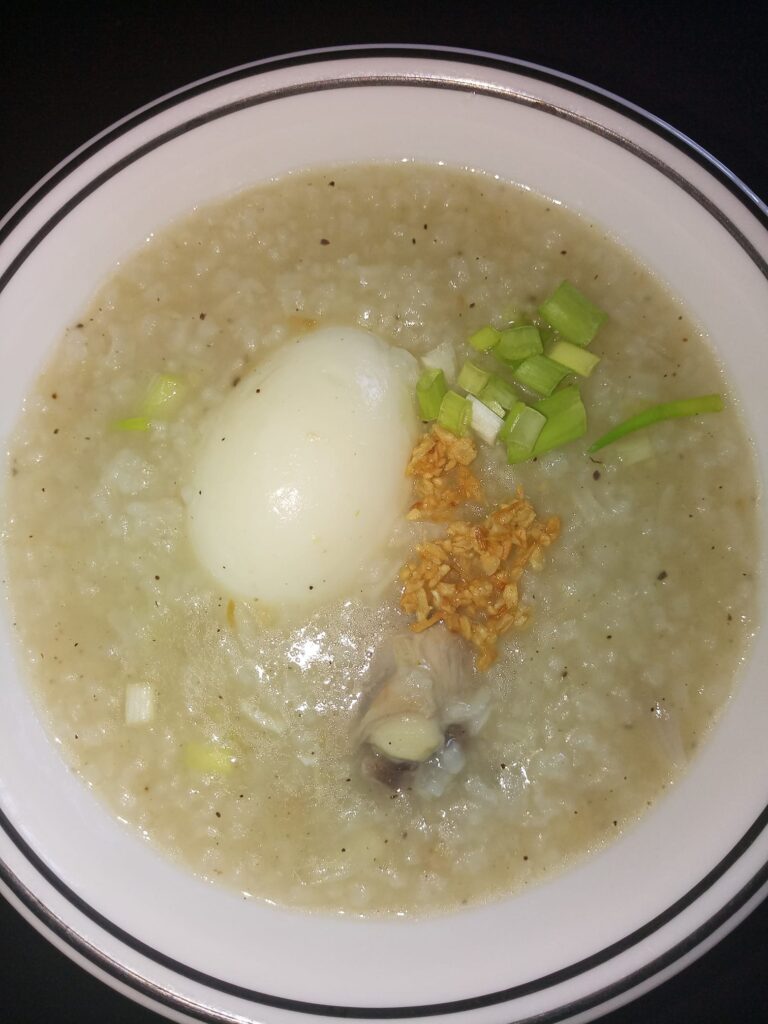 Arroz Caldo is a rice and chicken porridge with garlic and ginger. It is one hearty Filipino snack that everybody loves. It can be served as breakfast or as an afternoon snack. Arroz Caldo is one food that is very popular in the Philippines. It is very widespread such that it can be found anywhere from simple "carinderia" to typical restaurants.
Here's my version of Arroz Caldo that my kids love.
Advertisement
Ingredients:
1 1/2 lbs chicken (cut into smaller pieces)
1 cup rice (uncooked)
5 1/2 cups water
4 cloves garlic (minced)
1/4 tsp ground black pepper
2 knobs ginger (julienned)
1 tbsp fish sauce or liquid seasoning
4 eggs (hard boiled)
1 chicken cube
1 green onion (chopped)
Salt (to taste)
1 onion (chopped)
Advertisement
Instructions:
In a large pot, heat oil over medium heat. Saute garlic, onion and ginger in hot oil until fragrant.
Add the chicken and cook for about 1-2minutes or until the outside turns golden brown.
Add in the fish sauce or liquid seasoning and stir.
Add the uncooked rice followed by the chicken cube. Stir and make sure the flavor are well incorporated with the rice. Cook for a few minutes.
Pour in the water and bring to a boil. Make sure to stir occasionally to prevent the rice from sticking to the bottom of the pot.
Cook the rice for about 30-40minutes or until desired consistency is met. You may add water in between if it gets too dry.
Add in salt and ground black pepper, adjust the flavor.
Put it the hard boiled eggs. You may slice the eggs or leave it as it is.
Serve hot in a bowl. Sprinkle with minced garlic and chopped green onions on top.
Enjoy!
I know we can find Arroz Caldo literally just everywhere here in the Philippines but would you still want to try to cook this at home? Let me know in the comments!