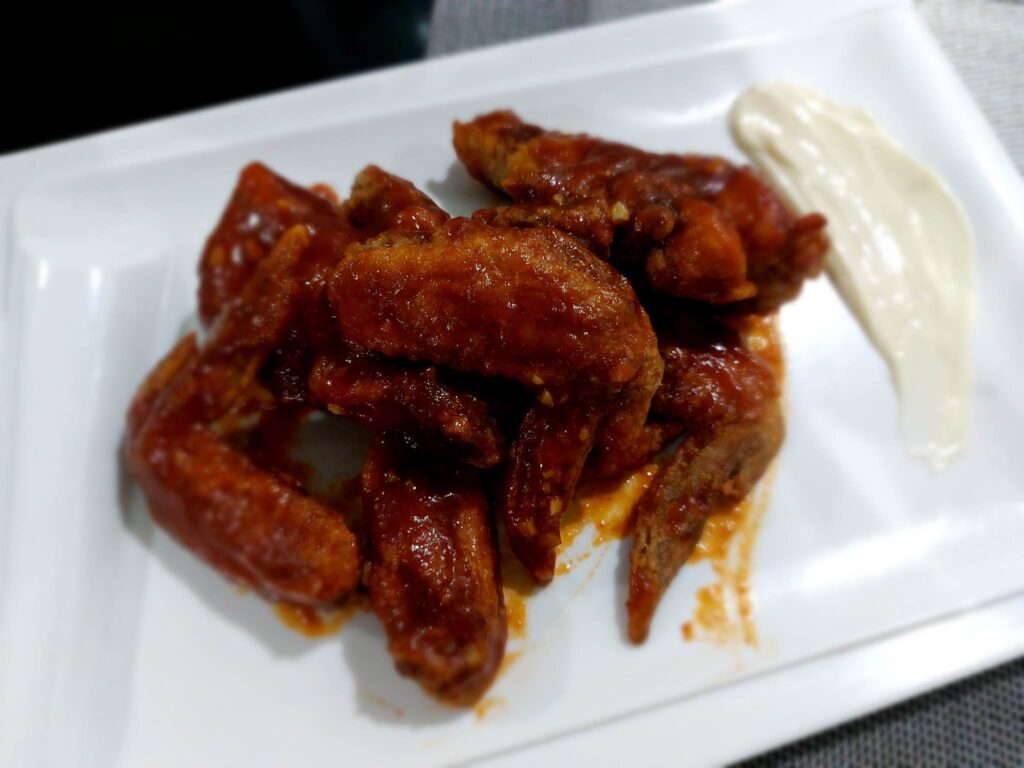 Buffalo Wings or hot chicken wings is a very popular dish not only here in the Philippines but all around the world. Some Buffalo Wings are cooked deep-fried or baked. To add more crisp to the chicken, I suggest deep-frying it. Here in the Philippines, everybody loves eating this dish using their bare hands and make it as "pulutan".
Here's how I make my own Buffalo Wings.
Advertisement
Ingredients:
1/4 cup all-purpose flour
1/4 cup cornstarch
1 tbsp baking powder
1 tbsp garlic powder
1 tsp ground black pepper
1 tsp salt
1 tsp cayenne pepper
2 cups vegetable oil (for deep frying)
10 pcs chicken wings
4 tbsp butter
2 cloves garlic (minced)
1/4 cup sriracha
2 tbsp honey
2 tbsp ketchup
Advertisement
Instructions:
Cut the wings in half separating the drumette and wingette. Pat dry.
Combine all dry ingredients: all-purpose flour, cornstarch, baking powder, garlic powder, salt, ground black pepper and cayenne pepper. Mix well.
Coat each wing with the flour mixture and make sure to shake off excess.
In a pot, heat oil over medium heat. Fry the breaded chicken wings until golden brown.
Set aside chicken and let it rest.
While waiting for the chicken, prepare the sauce. In a pan, melt butter and saute minced garlic.
Add the sriracha, ketchup and honey. Stir and cook until thick.
Once sauce is done an d chicken had cool down, let's do the double frying technique.
On the same pot where you cooked your chicken, heat it again and make sure the oil is hot enough.
Put the chicken back to the oil and fry until crispy and golden brown.
Once all the chicken are done double frying, toss it to sauce and mix well. Make sure the chicken are well coated.
Serve immediately and enjoy!
Tip: You can enjoy your buffalo wings more with a ranch dressing. I like mine paired with Kewpie, it may be weird to some of you but i find the flavors complementing though.
So? Do you think it's delish? Let me know in the comments if you tried making this recipe!