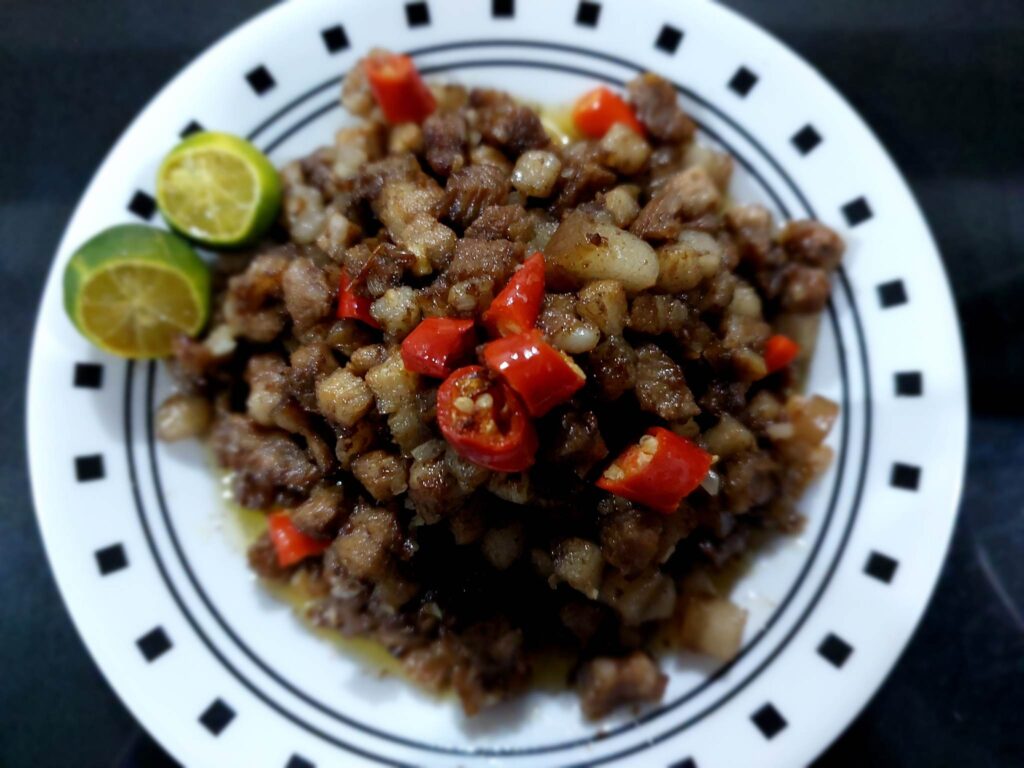 Pork Sisig is originally a recipe from the Kapampangans. It is a dish which consists of minced pork, onions, chilies and liver. It's a famous "pulutan" here in the Philippines. This recipe, though, has a twist and made my own version of Pork Belly Sisig.
A little back story about this recipe, I didn't use to eat sisig. However, this dish has always been my husband's favorite and he kept on asking me to cook Sisig for him. What I don't like about the original sisig recipe is it consists of pig's ears, face and liver. I am a bit particular with food ingredients so I'm a bit hesitant to try this dish in the first place. I came up with an idea to use different pork parts and used pork belly instead. Thus, this Pork Belly Sisig recipe!
Advertisement
Ingredients:
1kg Pork Belly
5-6 pcs Kalamansi (juice to extract)
2-3 tbsp Liquid Seasoning
1 tsp ground black pepper
1 tbsp soy sauce + 2 tbsp soy sauce
1 large white onion (finely chopped, divided into two portions)
3-4 cloves garlic (crushed) + 3 cloves garlic (minced)
2 pcs bay leaves
1 tsp peppercorns
water for boiling
3-4 chili peppers (or depends how spicy you want it – chopped)
1 tsp chili garlic sauce
1/3 cup butter
Advertisement
Instructions:
In a pot, put the pork belly, water (to boil), 2 tbsp soy sauce, peppercorns, crushed garlic and bay leaves. Let it boil for 30-40minutes or until pork is tender.
When pork is already tender, transfer to a wire rack and let it air dry.
Chop pork belly into small pieces.
In a medium bowl, transfer the chopped pork belly. Add in the kalamansi juice, minced garlic, ground black pepper, 1 tbsp soy sauce, liquid seasoning and the first portion of your chopped white onion. Mix well and let it sit for for about 10minutes.
In a pan, heat butter and cook garlic until golden brown.
Add in the marinated pork belly and cook for 5 minutes, stirring from time to time.
Add the chili garlic sauce and chili peppers.
Cook for another 1-2minutes.
Add in the remaining white onions. You can cook for another minute or two but if you want your white onions to be a bit raw then you can leave it as it is.
Plate and serve hot.
Enjoy!
Tip: You may add egg and mayonnaise to your sisig. Make sure that the fire is already out when you add the mayonnaise. When adding the egg, you may put out the fire too and add the egg immediately. The remaining heat of the pan and sisig will cook the egg.
What do you think of this recipe? Let me know in the comments!