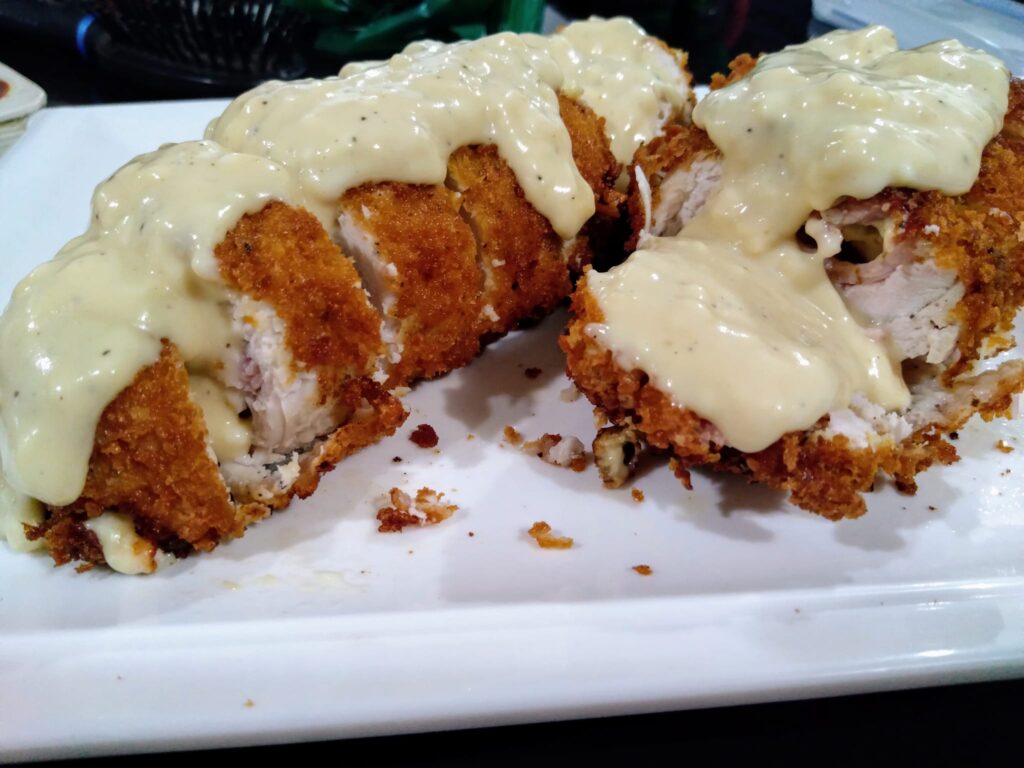 Chicken Cordon Bleu is a dish consists of chicken breast, ham and cheese being pan-fried, deep-fried or baked! The name might be fancy but is definitely simple to make. Here's my take for homemade Chicken Cordon Bleu!
Advertisement
Ingredients:
4 pieces boneless chicken breast
Vegetable oil for frying
Salt, to taste
Pepper, to taste
8 slices Swiss cheese (or any cheese of your preference)
8 pieces sliced ham
1 pc large egg
1 cup bread crumbs
Creamy Bechamel Sauce:
1 can evaporated milk
1/2 cup grated quick melt cheese
Salt, to taste
Pepper, to taste
3 tablespoons butter
3 tablespoons all-purpose flour
Advertisement
Instructions:
Pound the chicken breast using a mallet to 1/4 inch thickness.
Sprinkle both sides of the chicken with salt and pepper.
Top the chicken with 2 ham slices followed by 2 Swiss cheese.
Roll up each breast. Make sure that they are tightly rolled and secure it with toothpicks.
After the chicken have been rolled, prepare two separate bowls with a beaten egg and bread crumbs.
Drench the securely-rolled chicken breast first on the beaten egg then on the breadcrumbs.
To secure the chicken more, I like to wrap it tightly with a cling wrap and place it in the freezer for 20-30minutes.
Meanwhile, prepare the sauce. In a pan, over medium heat, melt the butter. Add the flour and whisk for 1 minute.
Add the milk gradually while whisking continually until no there are no lumps.
Continue whisking the mixture until it simmers.
Add the grated cheese. Continue to whisk until the sauce thickens.
Add salt and pepper to taste.
Remove the pan from the heat.
Once you are done preparing your sauce, your chicken is most probably ready.
Preheat the pan with oil to 325F.
Remove the cling wrap from the chicken breast carefully.
Place the breaded chicken cordon bleu in the pan and cook for about 5-10 minutes each side or until it is golden brown.
Let the chicken rest on a wire rack for about 5 minutes.
Slice the chicken and serve. Drizzle with the Bechamel sauce you made earlier.
Enjoy!
Let me know in the comments what you think of this recipe!