There are a lot of recipes of how you can cook Pork Humba. One thing is for sure though, this recipe should be sweet tasting. Pork Humba is a braised pork belly in pineapple juice with banana blossoms, salted black beans and assortment of spices. Some Pork Humba uses pork knuckles but I prefer to use pork belly since it has a lot pork fat.
Did you know that Pork Humba is likened to Adobo but is only sweet tasting? At first glance, sometimes both dishes are mistaken as the same until you look closely and see the slight difference in the ingredients being used.
Personally, I love sweet tasting viand, so when I heard about Pork Humba which somehow resembles to Pork Adobo but a sweeter version, I never hesitated to try it. Here's a version of my Pork Humba recipe.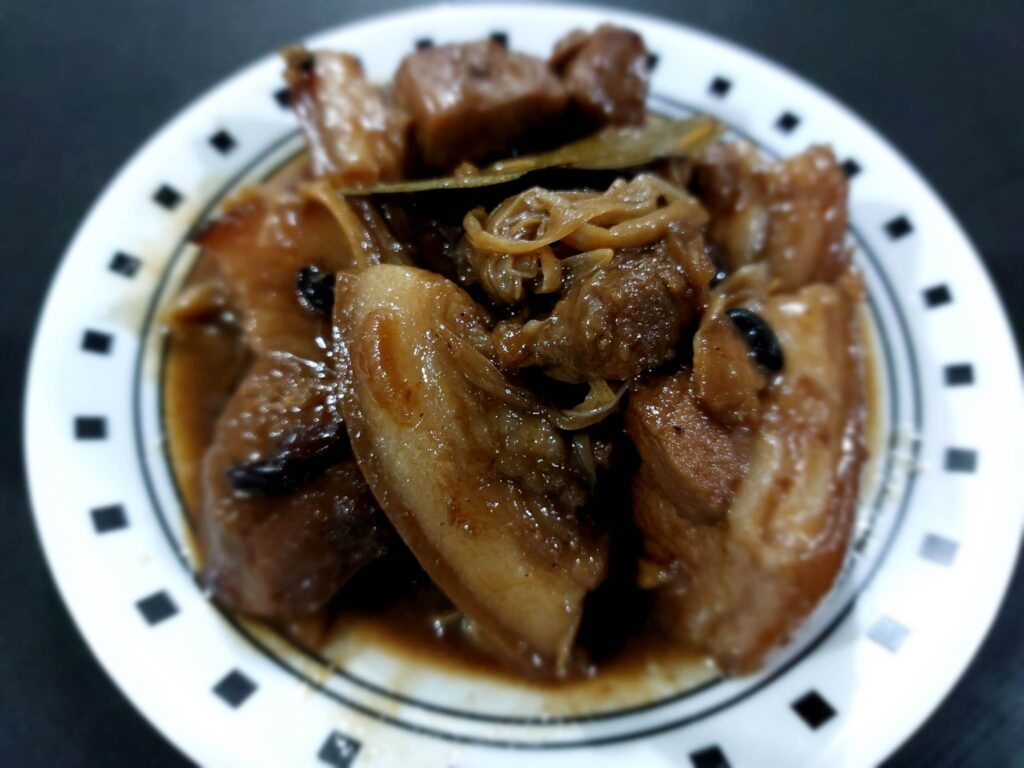 Advertisement
Ingredients:
1-2 lbs pork belly (cut into 2-in slices)
1 cup or 1 can Pineapple Juice
1 large onion (diced)
5 cloves garlic (crushed)
1/2 cup soy sauce
2 tbsp salted black beans
20g banana blossoms
2 pcs bay leaves
1 tbsp peppercorns
3 tbsp brown sugar
1/4 cup water
1-2 tbsp cooking oil
Advertisement
Instructions:
In a pan, heat oil over medium heat. Sear pork belly until lightly brown. Set aside.
On the same pan, reduce oil if too much. Saute garlic and onion until aromatic. Add the pork belly back on the pan and mix thoroughly.
Add soy sauce, pineapple juice, water, peppercorns, bay leaves, banana blossom and sugar. Mix thoroughly. Cover pan and cook in low heat for 40-50 minutes or until sauce has been reduced. Don't forget to stir from time to time.
Add the salted black beans and cook for another 5 minutes.
Turn off heat. Serve with rice and enjoy!
Will you try this at home? Let me know in the comments!