What first came to your mind when you heard "Garlic Pepper Beef"? Being a Filipino, I bet it's Jollibee's Garlic Pepper Beef! The Filipino go-to fast food chain, Jollibee, also serves this delicious meal and I must say a lot of our "kababayans" love their adaptation of this recipe.
This is my version of Garlic Pepper Beef of which I am confident my family would love. And voila! My first try in cooking this, they wouldn't stop eating! What they love most about this dish is the gravy. Check out below what's my secret in creating this delicious gravy.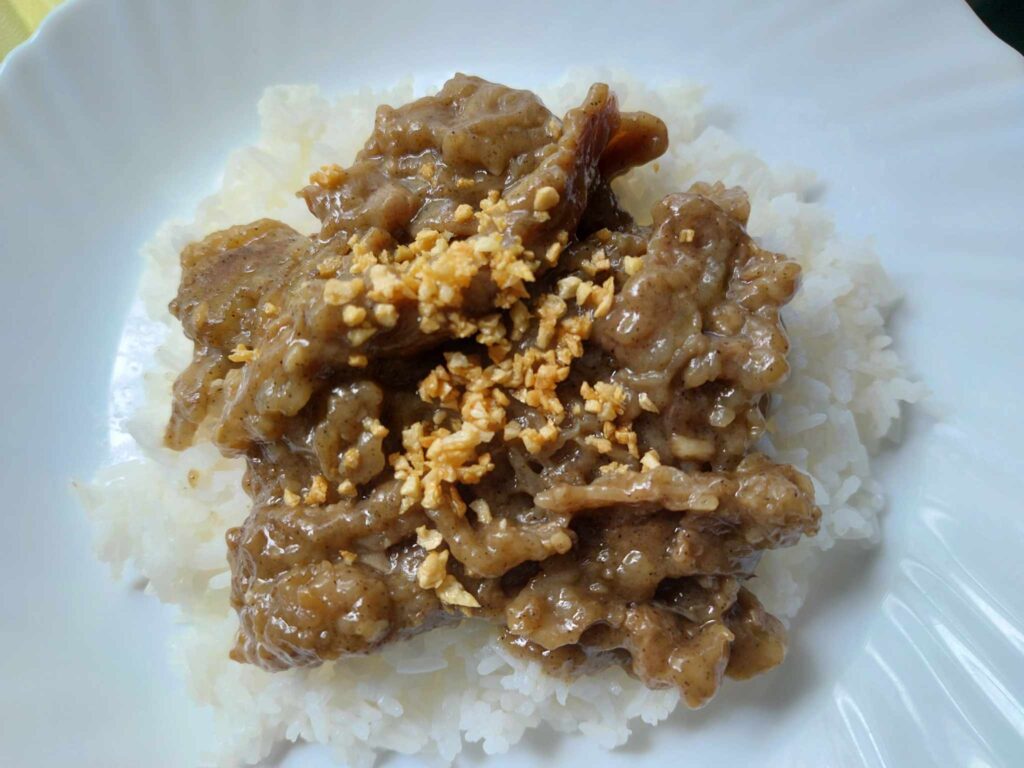 Advertisement
Ingredients:
1/2 kg Beef Sukiyaki (thinly sliced beef)
2 tbsp Oyster Sauce
2 tbsp butter + 1 tbsp butter
1 head garlic (minced)
1 tbsp soy sauce
1 cup mushrooms
1 tbsp ground black pepper
2 tbsp cooking oil
1/2 cup water
1/2 pack Knorr Cream of Mushroom + 1 cup of water
Advertisement
Instructions:
In a pan, heat oil and saute minced garlic until golden brown. Set aside.
On the same pan, remove oil. Add 2 tablespoons of butter and add the beef sukiyaki.
Cook the beef for a bit and add the ground black pepper, oyster sauce and water. Mix thoroughly.
Simmer the beef until liquid is reduced.
Add half of the sauteed minced garlic to the beef and mix. Set the other half aside for garnishing.
Remove the beef from the pan and set aside.
In a bowl, mix half pack of Knorr Cream of Mushroom and 1 cup of water. Make sure there are no lumps.
On the same pan where you cooked your beef, remove excess oil if there's any. Add 1 tablespoon of butter and saute the mushrooms.
Add the cream of mushroom mixture and cook until desired consistency is met. Consistency should be gravy-like, not too dry and not too watery.
Add soy sauce and mix.
Finally, add the beef to the gravy mixture and mix thoroughly.
Transfer to a plate. Top with fried garlic and serve with rice.
Enjoy!

What do you think of this recipe? Would you try this at home? Let me know in the comments! You may also check out my other beef recipe here.