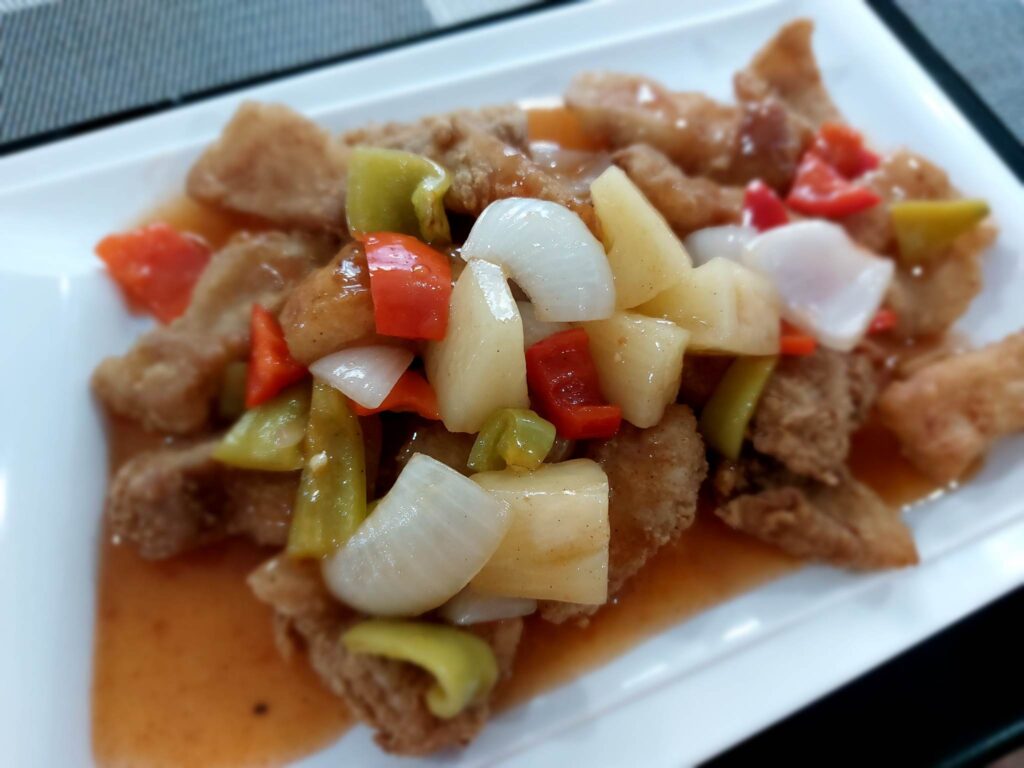 Sweet and Sour Fish Fillet recipe originates from China. You can use different types of fish for this dish but I am using Cream Dory for this recipe. As mentioned in my previous recipes, my family isn't really fond of fish dishes so I tried and still try to find fish recipes that they will surely like. This Sweet and Sour Fish Fillet recipe definitely passed the test.
I personally love Giligan's Sweet and Sour Fish Fillet recipe and that's what inspired me to make this dish. I tried to replicate their recipe and this is the closest that I got… I think? Well, you be the judge!
Advertisement
Ingredients:
For the Fish:
1 lb cream dory fish fillet (cut into 2-inches pieces)
1/2 cup all-purpose flour
1/2 cup cornstarch
1/2 teaspoon baking powder
1/2 tsp salt (adjust to taste)
1/2 tsp ground black pepper
1 large egg
3 cups oil (for deep-frying)
For the Sauce:
3/4 cup pineapple chunks
1 cup pineapple juice
1/4 cup tomato ketchup
1/4 cup brown sugar
1/4 cup vinegar
1 medium white onion
2 bell peppers (green and red)
salt and pepper (to taste)
1 tbsp oil (for frying)
1 1/2 tbsp cornstarch (mix with 2 tbsp water to make slurry, set aside)
Advertisement
Instructions:
Make sure your fish fillets are clean and dry.
In a large bowl, mix the following ingredients: flour, cornstarch, baking powder, salt and pepper
In another bowl, whisk egg.
Dredge the fish fillet to the flour mixture first then dip it into the egg then back to the flour mixture.
In a wok or a deep pan, heat the oil over medium heat. Cook the battered fish until golden brown.
In a bowl, mix the following ingredients: pineapple juice, ketchup, brown sugar, and vinegar
In a pan, add 1 tbsp oil over medium heat. Add white onion, bell peppers and pineapple chunks. Stir consistently until half-cooked. Remove from pan and set aside.
On the same pan, pour in the sauce mixture and bring to a boil. Make sure to whisk regularly.
Add in the onions, bell peppers and pineapple chunks. Cook for 1-2 minutes more.
Gradually add in the slurry mixture until sauce is thick and desired consistency is met.
You may second fry the fish fillet when it softened at this point.
Once done, you may put on your fish fillet on a plate and pour in the sauce or you may also add the fish fillet in the pan and toss until fully coated.
Serve and enjoy!
What do you think? Have you also tried Giligan's Sweet and Sour Fish Fillet? Is it somewhat close? Let me know in the comments!