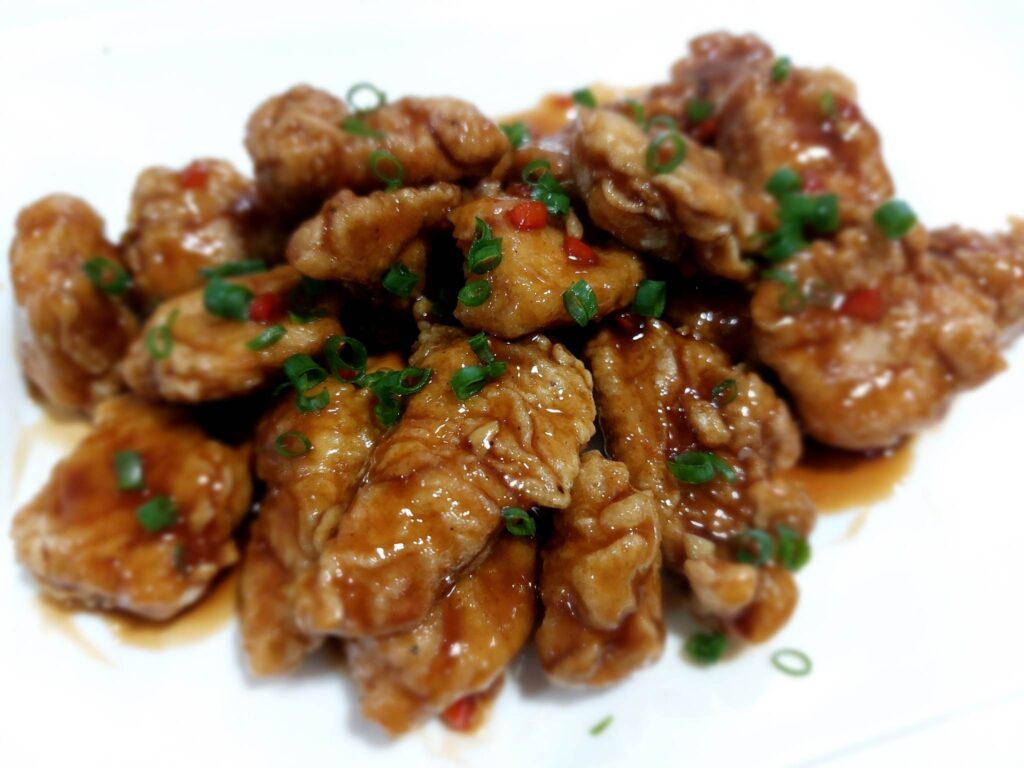 This sweet and sticky Orange Chicken recipe is one of my kid's favorite dish. This dish is usually popular and known at Chinese Restaurants. I personally love sweet dishes so I just had to try this recipe at home.
Here's my version of the Orange Chicken.
Advertisement
Ingredients:
1 large boneless chicken breast (cut into cubes)
2 tbsp green onions (thinly sliced)
2 cups of oil (for cooking)
For the Sauce:
3 cloves garlic (minced)
1 chili pepper (chopped) or you can also use pepper flakes
1/2 tsp ginger (minced)
half of bell pepper (minced)
3 pcs oranges or ponkan (juice extracted and keep a part of the zest )
1/2 cup vinegar
3/4 cup sugar
1/3 cup soy sauce
1/4 cup water
2 tsp cornstarch and 2 tsp water (for the slurry)
For the Chicken Coating:
1/2 cup all purpose flour
1/2 cup cornstarch
salt and pepper
1 large egg
Advertisement
Instructions:

For the Sauce:
In a saucepan, boil vinegar.
Add in the sugar, soy sauce, water, orange juice and the orange zest. Mix thoroughly and simmer.
In a small bowl, mix the cornstarch and water to make the slurry.
Add the slurry to the sauce mixture. Stir and simmer until sauce thickens.
Turn off the heat and add the garlic, bell pepper, chili and ginger. Mix and set aside for a while.
For the Chicken:
In a pan, heat oil in high heat.
In a separate bowl, mix the cornstarch, all purpose flour, salt and pepper.
Whisk egg in a another bowl.
Coat the chicken first in the flour mixture, then drench on the egg mixture and back to the flour mixture again.
Deep fry the coated chicken until golden brown.
Toss the chicken into the sauce until full coated.
Serve on a plate and garnish with green onions.
Enjoy!
Will you try this at home? Let me know in the comments when you do!