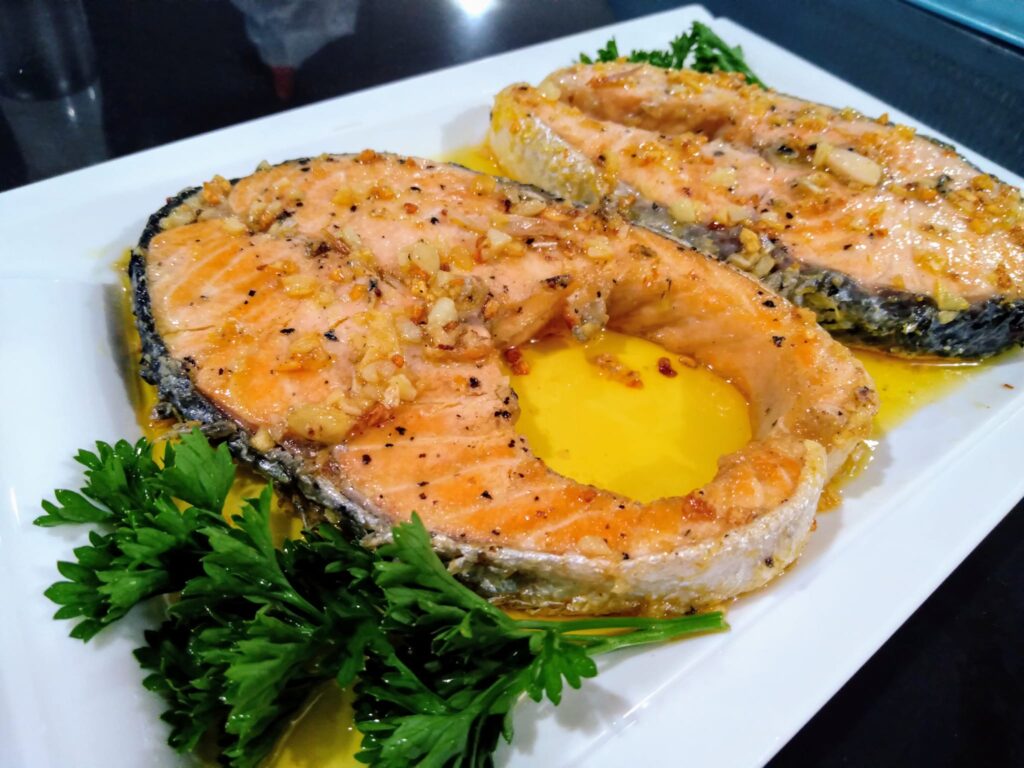 Pan Seared Lemon Butter Garlic Salmon is one of the easiest recipes I have tried cooking. My family isn't really a fan of fish dishes but this one got them saying "yummy!". The moment I heard about this recipe, I didn't have any second-thoughts of trying out this dish. The combination of the flavors got me curious and I wasn't wrong at all – it was indeed, yummy!
Here's my take of the Pan Seared Lemon Butter Garlic Salmon – for the love of Hell's Kitchen!
Advertisement
Ingredients:
4 slices of salmon fillets (I only have this cut but preferably, I would choose the fillet cuts)
1/4 cup fresh lemon juice
5 garlic cloves (minced)
1/3 cup unsalted butter + 1 tsp butter for basting
2 tsp olive oil
Salt
Freshly ground pepper
2 tbsp chopped parsley
1/2 tsp honey
lemon slices (for garnish)
Advertisement
Instructions:
Pat dry both sides of the salmon and season with salt and fresh ground pepper.
In a pan, melt butter in a medium heat.
Add the minced garlic and saute until golden brown.
Pour in the lemon juice and let it simmer for 3 minutes.
Add in the honey. Stir and set aside.
In a medium-sized non-stick pan, heat olive oil.
Put in the salmon and cook both sides for about 2 minutes depending on the cut. Mine took a shorter time because I have a thinly sliced salmon but if you have the fillet kind of cut you may continue cooking for about 4 minutes.
Add in the butter sauce. You may add another teaspoon of butter while constantly basting the salmon for 1 minute.
Plate your salmon. Drizzle with its sauce and garnish with parsley and lemon slices.
Serve immediately and enjoy!
Another easy recipe for your hungry stomach, isn't it? Want to try this recipe at home? Let me know!